Welcome to my illustration and painting showcase. Enjoy roaming the galleries and don't forget to order a book, game or print of your favorite project. Feel free to email me with any questions or feedback.

If you like more information on equine and pet portrait commissions please visit petorious.com / gloriouspony.com. In the books & games section you find all published projects, including links to purchase them online. In the prints section you can order prints of selected illustrations. If you rather have an original painting please contact me, some of my illustrations and fine art is for sale.






The new Medizini Poster is out and in this months' (Sept 2017) magazine! Go get it in your local Apotheke in Germany!



The brand new sticker book series from Ravensburger is out and I had the best subject - you guessed it, horses! It's super fun to play with the stickers! Get your own horse themed sticker book here.



There's new projects on the webpage: new logo in digital, new puzzle in illustration - also as a link in the books and games page to buy. And last but not least new ribbons on the about page.



David Bolton and myself collaborated on a great new property (see below)! Any interested publisher please contact me for more information.







I have been working on some book ideas and am now looking to publish these properties:

"Nimby, Orell and the Pequids Egg" is an imaginative adventure story for children on the early reader/ first chapter book level.
"Working as a team will be a challenge in this fun filled adventure for two mischievous young brothers attempting to return a lost egg to its home. As they soon learn, following directions can be as difficult as understanding them in this journey of self discovery on roads less travelled."
For more information please email me.


| | | |
| --- | --- | --- |
| | | "JOSEY and TENGO" is an adventurous and educational children's book series about the courageous little cowgirl Josey and her loyal mustang Tengo. For more information please email me or contact Justin at ShannonAssociates. |
"JEAN & BO" introduces the reader to the basics of Western
Riding and the Cowboy/Cowgirl lifestyle in the (Wild) West. The text is in German, but will soon be translated into english. For more information please email me.


My illustration work is represented in the USA by ShannonAssociates.
I am also a member of the IO - Illustratoren Organisation in Germany as well as VG Bild-Kunst.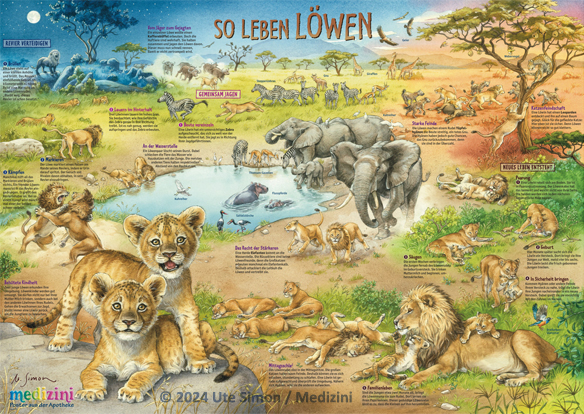 This is one of my favorite projects - illustrating the science poster for the German kids magazine "Medizini"! In this case it's for the little ones... This is September 2017, go to the Apotheke and get yourself a copy!



Thank you for visiting! - Ute
(Last update 9/2017)